What Is the Difference Between Offset Printing and Digital Printing?
What Is the Difference Between Offset Printing and Digital Printing?


While working with our new customers, lot of customers will ask us that what is the difference between offset printing and digital printing? Here's our details answers for this question:

The Printing Press - the traditional method for printing was invented independently by German Johannes Gutenberg in the year 1450(This is same with the theory of movable type printing invented by Bi Sheng earlier ). It's a process by which ink is rolled on to paper and rests on the surface as well as being absorbed into the paper. This process is my preferred choice because its gives me the most accurate control of color, variation of color and paper weight.

Offset Printing methodology

For offset printing, Full color (CMYK) and Pantone spot color (PMS) is used. In this process, an image is transferred to paper using ink and plates. It will result in very high quality and cost effective prints for longer print runs. A minimum of 1000 copies is required for a single page A4 brochure to achieve cost effectiveness.

Below is a list of pros and cons to Offset Printing:

Pros

1) Allows the most wide range of color re-production. Bright florescence, Pantones®, metallic, foils and varnishes can all be produced using this method of printing.

2) Allows the most accurate color re-production and consistency

3) A wide variety paper weights, size and textures

4) Light inks such as white ink can be printed on a dark surface of a paper (i.e.. White ink of black paper)

5) Adjustments to ink density

6) Better quality inks

7) Large print runs exceeding 200,000+ copies can be reproduced and extremely quickly

Cons

1) Setup time is slower and a lot more production steps are required

2) Cost of printing low quantities (under 500 copies) can be more expensive

3) You can't just print out only one copy

4) Drying time is considerable

5) Printing press machines can be fairly large and require trained personal (press men) to work and maintain them

6) For quality print results an experienced press man is a necessity

7) A lot more attention to detail is required to make sure that the quality of the results is acceptable. An experiencing graphic designer and press man working together can ensure the best results though.

yellowprinting.com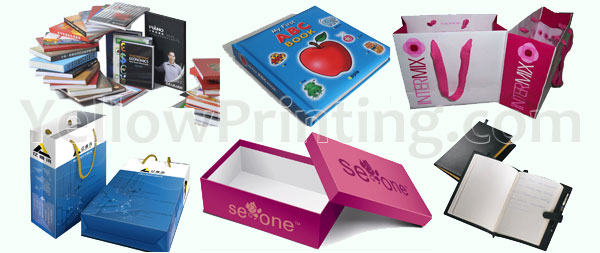 Digital Printing

For digital printing, either CMYK or RGB may be used, but occurrences of color shifts may happen with RGB content. Typically, short print runs of 1000 or fewer copies are common with digital printing jobs. It takes a shorter time to set up a file to print, since there are no printing plates used. Thus, a completed file can be proofed, and the required quantity run within a shorter period of time. For accurate color checking, proofs can be printed on final stock choice. It's originally invented as a pre-press digital proofing system, it was designed to emulate the final printing press results giving customers an idea of what their final printing press project would look like. The process eventually evolved into an alternative printing solution.

Below is a list of pros and cons to Digital Printing:

Pros

1) Short turn around time, quick, no drying time for inks

2) Affordable, cost effective solution for small print runs under 500 copies

3) Can be printed onto a variety of mediums including; paper, glass, metal, marble

4) Can do very large format printing exceeding 10 feet in diameter

5) You can print out just one copy

6) Digital printers are more readily available and getting pricing is faster and does not require a formal quote from a print representative

Cons

1) Color consistancy is poor
2) Larger quantities exceeding 500 copies can be more expensive
3) Pantone® colors can not be reproduced
4) Difficult to reproduce colors accurately
5) Can not reproduce metallic inks, foils or varnishes
6) Weight of paper is limited and size of paper in most cases
7) Final results are limited to a semi-gloss or gloss finish
8) Not able to reproduce a matte finish very well
9) Ink is not not absorbed into paper rather it sits on top of paper and makes it more susceptible to cracking
10) Cannot produce white or light colored inks on dark papers


Summary:

Offset printing uses plates when transferring images, while digital printing does not use plates.

Offset printing is typically used for longer print runs (minimum 1000 copies), while digital is mainly for shorter print runs of 1000 copies or less.

Offset printing offers the ability to specify PMS color, while digital does not use PMS color selection.

Offset gives a better final printed effect of the solid areas of color, than digital.